operational excellence

achieving world-class performance
At Chevron, we are focused on safely delivering the energy needed for human and economic progress around the world. Over the years, Chevron has instilled a culture of environmental safety with the goal of achieving world-class performance and preventing incidents. We call this Operational Excellence Management System (OEMS), and it drives everything we do from our policies, processes and tools to the behavioral expectations to help us achieve this goal.
Operational Excellence (OE) puts into action our Chevron Way value of protecting people and the environment. It helps us achieve Chevron's vision of being the global energy company most admired for its people, partnership and performance.
our OE priorities

eliminate fatalities, serious injuries and illnesses
assess and manage significant environmental risks

eliminate high-consequence process safety incidents and operate with industry-leading reliability


address OE business risks through stakeholder engagement and issues management

use energy and resources efficiently

prevent high-consequence security and cybersecurity incidents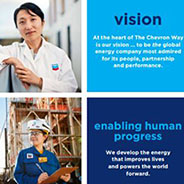 The Chevron Way explains who we are, what we believe, how we achieve and where we aspire to go. It establishes a common understanding not only for us, but for all who interact with us.