our businesses

helping meet Brazil's energy demand

Chevron has been responsibly partnering with Brazil to develop its abundant energy resources for more than 100 years. Our business portfolio in the country includes both upstream and downstream activities.
In upstream, our company holds interests in 11 deepwater projects - six of them were acquired in 2018 and other five blocks were acquired in 2019. The blocks C-M-791 (40%), C-M-821 (40%), C-M-823 (40%), C-M-845 (40%), C-M-825 (40%), C-M-713 (35%) and C-M-659 (35%) are located in the Campos basin, in Rio de Janeiro. The blocks S-M-764 (40%), Três Marias (30%) Saturno (45%) and S-M-766 (40%) are located in the Santos basin, in São Paulo.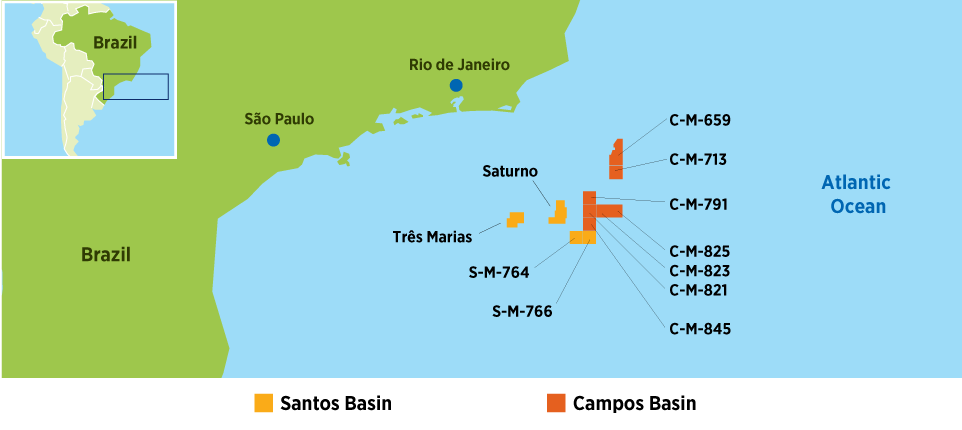 In downstream, Chevron owns and operates an Oronite facility that develops, manufactures and markets performance-enhancing additives for lubricating oils and fuels. Oronite products combine innovative technology and the latest research to help maximize the reliability, efficiency and life of engines. The result is fewer emissions and less impact on the environment.
upstream portfolio
Basin

Field1/Block2

Consortium and Interest

Date of Acquisition

Santos

S-M-7642

Chevron Brasil* (40%)
Repsol Exploração Brasil (40%)
Wintershall Dea do Brasil(20%)

2018 – 15thBid Round

Campos

C-M-7912

Shell Brasil* (40%)
Chevron Brasil (40%)
Petrogal Brasil (20%)

2018 – 15thBid Round

Campos

C-M-8212

Repsol Exploração Brasil ** (40%)
Chevron Brasil*** (40%)
Wintershall Dea do Brasil(20%)

2018 – 15thBid Round

Campos

C-M-8232

Repsol Exploração Brasil ** (40%)
Chevron Brasil*** (40%)
Wintershall Dea do Brasil(20%)

2018 – 15thBid Round

Santos

Três Marias2

Petrobras* (30%)
Chevron Brasil (30%)
Shell Brasil (40%)

2018 –4th Production SharingBid Round

Santos

Saturno

Shell Brasil* (45%)
Chevron Brasil (45%)

Ecopetrol (10%)

2018 – 5th Production Sharing Bid Round

Santos

S-M-766

Chevron Brasil* (40%)
Repsol Exploração Brasil (40%)

Wintershall Dea do Brasil (20%)

2019 - 16th Bid Round

Campos

C-M-845

Chevron Brasil* (40%)
Repsol Exploração Brasil (40%)

Wintershall Dea do Brasil (20%)

2019 - 16th Bid Round

Campos

C-M-825

Repsol Exploração Brasil* (60%)

Chevron Brasil (40%)

2019 - 16th Bid Round

Campos

C-M-713

Shell Brasil* (40%)

ChevronBrasil (35%)

Qatar Petroleum(25%)

2019 - 16th Bid Round

Campos

C-M-659

Shell Brasil* (40%)

ChevronBrasil (35%)

Qatar Petroleum(25%)

2019 - 16th Bid Round
*Operator | **Operator for exploration phase only | ***Operator in production phase only