Chevron Brasil invests in an Environmental Education Project (EEP) in the coastal areas close to Frade operations in municipalities located in Rio de Janeiro and Espírito Santo, to promote educational activities on community organization for young fishermen whilst raising awareness on environmental management.
The project, led by the Environmental Studies Network (ESN), aims to leverage the identity of the fishermen community and build appreciation and a sense of belonging for young people in these communities. You can follow the project agenda by municipality online at www.projetorema.net or by visiting ESN's Facebook page.

Did you know?
Environmental Education Projects in Brazil are a licensing condition and their implementation supervised by the Brazilian Institute of Environment and Renewable Natural Resources (IBAMA).
learn more about our commitment to the environment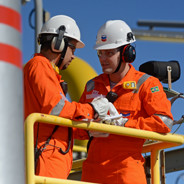 you might also be interested in